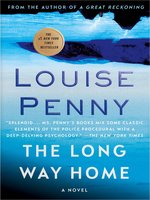 THE LONG WAY HOME IS THE TENTH OF ELEVEN IN THE CHIEF  INSPECTOR GAMACHE SERIES AND I HAVE READ ONLY ONE OTHER (HOW THE LIGHT GETS IN #9 – http://wp.me/p3DlOf-5e).
THE STORY IS THE SEARCH FOR CLARA'S HUSBAND, PETER, WHO SHE SUGGESTED LEAVE OVER A YEAR AGO ON A TRIAL SEPARATION WITH A MEETING ONE YEAR LATER TO SEE WHERE THEY ARE AT.  MANY WEEKS AFTER THAT ONE YEAR ANNIVERSARY PETER HAS NOT RETURNED HOME SO CLARA ENGAGES RETIRED CHIEF INSPECTOR GAMACHE TO HELP HER FIND HIM FEARING HE MUST BE DEAD.
PETER IS AN ARTIST WHO HAS TRAVELED THROUGHOUT EUROPE'S ARTIST REGIONS AND SOME OTHER STRANGER DESTINATIONS BUT IT DOES SEEM HIS TRAIL IS HEADING HOME WHEN THE TRAIL ENDS.  GAMACHE AND HIS COHORTS CONTINUE TO DIG AND UNCOVER MORE SURPRISES.  A GOOD READ THAT YOU WILL ENJOY AND INSPIRE YOU TO BEGIN TO READ THE REST OF THE SERIES!
PUBLISHER'S BLURB:
Happily retired in the village of Three Pines, Armand Gamache, former Chief Inspector of Homicide with the Sûreté du Québec, has found a peace he'd only imagined possible. On warm summer mornings he sits on a bench holding a small book, The Balm in Gilead, in his large hands. "There is a balm in Gilead," his neighbor Clara Morrow reads from the dust jacket, "to make the wounded whole."
While Gamache doesn't talk about his wounds and his balm, Clara tells him about hers. Peter, her artist husband, has failed to come home. Failed to show up as promised on the first anniversary of their separation. She wants Gamache's help to find him. Having finally found sanctuary, Gamache feels a near revulsion at the thought of leaving Three Pines. "There's power enough in Heaven," he finishes the quote as he contemplates the quiet village, "to cure a sin-sick soul." And then he gets up. And joins her.
Together with his former second-in-command, Jean-Guy Beauvoir, and Myrna Landers, they journey deeper and deeper into Québec. And deeper and deeper into the soul of Peter Morrow. A man so desperate to recapture his fame as an artist, he would sell that soul. And may have. The journey takes them further and further from Three Pines, to the very mouth of the great St. Lawrence river. To an area so desolate, so damned, the first mariners called it The land God gave to Cain. And there they discover the terrible damage done by a sin-sick soul.
Rate this book using the stars below: