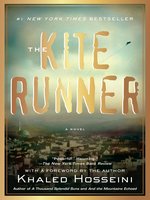 I AM ASHAMED TO SAY I WAS NOT GOING TO READ THIS BOOK BECAUSE OF THE AUTHOR'S NAME!  THAT'S NOT USUALLY HOW I OPERATE BUT 911 IS STILL SO FRESH IN MY MEMORY – IT IS HARD TO OVERCOME.  SO, I PUT THE BOOK ON MY WISH LIST LAST YEAR AND THEN KHALED HOSSEINI'S "AND THE MOUNTAINS ECHOED" WON ALL KINDS OF AWARDS IN 2103.  WHEN I CHECKED THE LIBRARY, THE KITE RUNNER WAS AVAILABLE AND I SCOOPED IT UP!
I REALLY LOVED THE STORY.  IT IS ABOUT TWO BOYS GROWING UP (ONE THE SON OF A WEALTHY MAN; THE OTHER THE SON OF THE WEALTHY MAN'S SERVANT) AS FRIENDS IN THE  AFGHANI WORLD OF THE 1970'S.  LIVING THROUGH THE TAKE OVER BY THE TELEBAN YET WORKING THROUGH THEIR OWN CHILDHOOD STRUGGLES.  THE STORY IS WOVEN SO INTRICATELY YOU DON'T UNDERSTAND ALL THE COMPLEXITIES UNTIL THE LAST FEW CHAPTERS.  IT SHOWS WE ARE ALL HUMANS WITH WEAKNESSES BELOW THE SURFACE BUT WE CAN ALWAYS STRIVE TO BE BETTER AND OVERCOME THOSE WEAKNESSES!  A RECOMMENDED GOOD READ!
HERE IS THE PUBLISHER'S SYNOPSIS:
The New York Times bestseller and international classic loved by millions of readers.
The unforgettable, heartbreaking story of the unlikely friendship between a wealthy boy and the son of his father's servant, The Kite Runner is a beautifully crafted novel set in a country that is in the process of being destroyed. It is about the power of reading, the price of betrayal, and the possibility of redemption; and an exploration of the power of fathers over sons—their love, their sacrifices, their lies.
A sweeping story of family, love, and friendship told against the devastating backdrop of the history of Afghanistan over the last thirty years, The Kite Runner is an unusual and powerful novel that has become a beloved, one-of-a-kind classic.
Rate this book using the stars below: